https://www.calcalistech.com/ctech/articles/0,7340,L-3840381,00.html
Government and capital should invest in young startups to plant the seeds of new post-coronavirus growth.
Eran Wagner 10:35 19.07.20
Frankly, the crisis hasn't even begun. The extent and rate of morbidity now exceed those we experienced in the so-called first wave. The government is seeking to find a balance between limiting citizens' movement and preventing ongoing harm to the economy. No company is immune from the crisis, not even the likes of major car rental company Hertz, which was forced to lay off 16,000 workers and file for bankruptcy. In Israel, large cutbacks were recently announced by IAI and Amdocs, which is preparing to lay off 1,000 employees worldwide, 250 to 300 in Israel.Alongside the justified concerns over actions of individual companies, a distinction must be made between the small and big picture. In recent years we have witnessed a significant amount of capital enter the market, which allows companies to survive longer, even in challenging conditions. In June alone, Israeli start-ups raised close to half a billion dollars, a similar amount to what was raised in June of last year. In addition, five acquisitions were recorded in the last month and they join others in recent months, such as the acquisition of Moovit by Intel among others. These examples prove that large companies with cash in their coffers are currently looking for acquisition opportunities.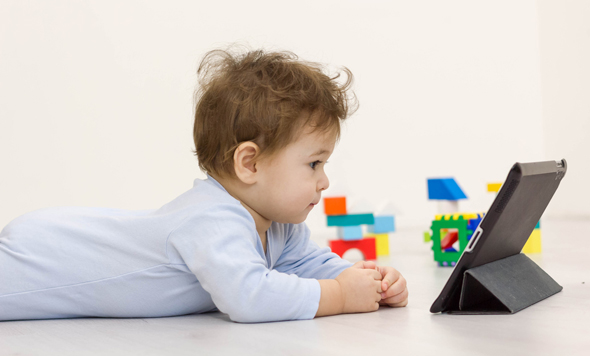 A baby looking at a tablet. Photo: ShutterstockThat said, there is another side to the coin. A survey conducted by the Israel Innovation Authority (IIA), the government's tech investment arm and IATI, an umbrella group for the tech industry, is causing debate over the question of whether young companies that fail to raise money on their own, deserve to be bailed out by grants from the state or should be left to die prematurely. Various voices in the industry have weighed in on this issue.
.
It took only three months after a major forest fire burnt down thousands of acres in northern Israel in December 2010, to note that the amount of precipitation that fell allowed many plants to begin a new life cycle. The charred ground under the canopy of burned trees was painted with green foliage and signaled to nature lovers that not only did the fire not destroy the forest, it actually caused a boost of growth. Similarly to the great renewal mechanism of nature, the renewal mechanisms of society, the economy, and industry also work, with crises playing a key role in accelerating innovation and creating business opportunities. If we examine the two previous economic crises that hit the world: the dot.com crisis in 2001 and the economic crisis in 2008—though the total volume of investments in companies and startups shrunk relative to other periods, a larger number of companies benefited from investments. More than half of the Fortune 500 companies were born during a recession or crisis, and more than 50 unicorns, valued at about $145 billion altogether, were launched during the crisis years of 2007 to 2009. Among them, Airbnb was founded due to the prosaic fact that its founders could not afford to pay rent on time. Given that startups are considered to be the number one engine for job creation in modern economies, it is vital that governments take notice. This is especially true during a recession when large companies tend to make extensive cuts while small companies continue to recruit, out of a desire, and need, to take advantage of opportunities that arise precisely in a time of crisis. The rising volume of layoffs—more than a million job seekers in Israel and 3.3 million unemployed in one week in the U.S.— also shows that the need for new jobs is acute, and if the remedy lies in young startups it is in everyone's interest to invest in them and encourage them to develop and continue recruiting both capital and employees. This type of crisis forces less efficient and less competitive companies to make way for new companies trying to pursue new opportunities and take advantage of new needs of the market more efficiently and successfully. The companies that close down or reduce activity, release talented employees into the ecosystem who in turn will be integrated into the young companies. Even if the natural dilution of startups that do not survive the crisis is perceived as a historic mistake on the individual startup level, a big-picture view allows us to see it as an important and beneficial process. In any case, the baby boom of startups is still ahead of us.